SINS OF THE FLESH
– THERE IS NO GOOD - THERE IS NO EVIL - THERE IS ONLY FLESH –
Published by guerillapublishing
BACK ISSUES - CONTENTS - ORDERING INFO



Sins of the Flesh is a Goth/Horror/Dark fantasy cross breed 'Zine.

ISSUE 1 (STILL AVAILABLE)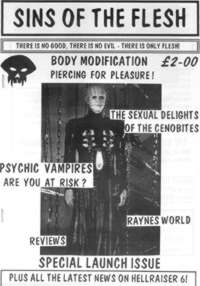 FEATURES -

SEXY CENOBITES
PSYCHIC VAMPIRISM
BODY MODIFICATION - PIERCINGS
FILM NEWS
REVIEWS
AND MORE...



OUT NOW!!!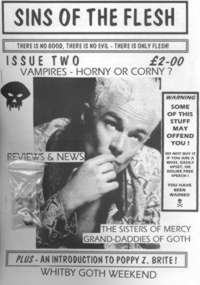 FEATURES -

VAMPIRES - HORNY OR CORNY?
POPPY Z BRITE
SISTERS OF MERCY
ORIGINAL ARTWORK
FILM NEWS
REVIEWS
AND MORE...



SINS - REVIEWED


ORDERING INFORMATION

SINS OF THE FLESH is available through Forbidden Planet Leeds -(UK wide FP distribution pending.),
That's Entertainment Leeds, UK or via mail order from
guerillapublishing 16- Stratford Street -Leeds - LS11 6JP UK

SINS OF THE FLESH costs £2-50 (INCL P&P) and is also available on
Subscription for just £12 (P&P FREE) for 6 issues.



CHECK OUT THE ONLINE HORROR COMMUNITY SINS SPONSORS.
HERE


Email us at: toxicslave@yahoo.co.uk

BACK TO THE LIBRARY